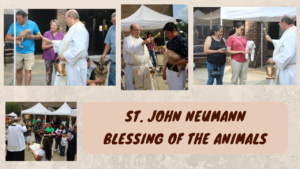 Feast Day of St. Francis of Assisi, is October 4th!
He is the Patron Saint of the Animals and of the Environment in celebration of his day, we will have our annual blessing of the animals on
Saturday, October 7, 2023 at 10 am @ courtyard.
Please bring your family pet, all furry and non furry friends for a special blessing by Fr. John.
Please be sure that your animals are well secured on a leash or in a carrier or cage, and use a muzzle if necessary.