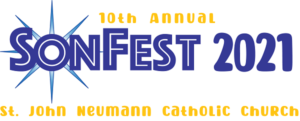 "Welcome Back !"
Remember to mark your calendar to join us
Friday & Saturday, October 1st & 2nd
Brothers & Sisters…
The SJN family needs your Stewardship of Time, Talent, & Treasure. to help obtaining SonFest Sponsorships and Donations.   If you, your business, or business contacts can become a sponsor or donate items for the silent auction please contact us.
Sponsorships are available as "Friends of SonFest" at $100. Sponsors at the $1,000 donation level and above will have a banner with their company name displayed on Idlewild Road the week of SonFest, with exposure to thousands of daily commuters.
Donations are needed of items for our Silent Auction, Basket Raffle, as well as resources of food, drinks, and restaurant supplies.  Some ideas … new, in-the-box, home electronics, TVs, bicycles, sports memorabilia, vacation timeshares, weekend getaways, sport event tickets, home equipment, decorations, coupons for merchandise or activities in our community.  Maybe Carolina Panther, Hornets or local college season tickets for a game someone cannot attend and would be willing to donate.  Brochures and letters can be found by clicking this link.
Sponsor and Donation brochures and letters can also be found in the Gathering Area, or by contacting SJN.SonFest@outlook.com or calling 704.756.8790.
SonFest only works with Volunteers !!! …
We are going to need almost 500 volunteers to make SonFest a success.   We invite you to step up and commit on our Sign Up Genius page.  Use the links below to step up to the challenge.