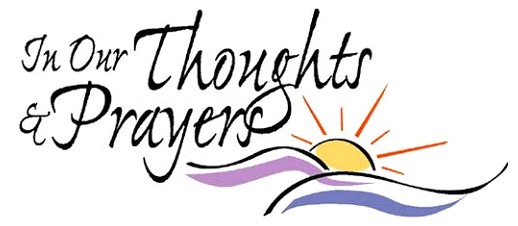 We offer up in prayer those on our list and all those we haven't listed but know they are struggling.
Lourdes Baez
Bill Butler
Deborah Byrd
Carlos Castaneda
Thomas Deal
Justin DeBrosse
Dean Demmery
Douglas Ernesto
Michael Garzio
Esteban Gualpa
Marcelo Guitierrez Vazquez
Richard Hagenbuch
Amber Hochadel
Mariana Morocho
Langan Family
Francisca Ortiz Jaime
Segundo Lliguicota
Margaret Lucey
Mary Ann Maher
Stephen Macdonald
Herman Martinez
Henrique Midence
Teresa Miller
Shirley Montgomery
Jesus & Rosa Panora
Sam Pappas
Candelaria Ayala de la Paz
Raymond Paskiewicz
Michelle Presley
Saturnina Quintero
Derrick Reyes
David Rudloff
Betty Scanlon
Bernard Shaw
Becky Stewart
Clint Sites
Wayne Smith
James Wittig
Tina Woodworth
If you or someone you know would like to be on the prayer list, please notify the church office. God always hears our prayers and in His goodness blesses us with His Strength, love and Peace.
Si usted o conoce a alguien que le gustaría estar en la lista de oraciones, notifique a la oficina de la Iglesia. Dios siempre escucha nuestras oraciones y en Su bondad nos bendice con Su Fuerza, amor y Paz.