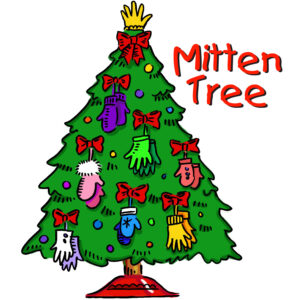 The SJN Annual Christmas Mitten Tree Has Arrived!
We are collecting Hats, Scarves & Mittens to be distributed to those in need.  Items can be Knitted, Crochet, Crafted or Newly purchased. Our mitten tree is located in the gathering are.  Please drop off all goods anytime after or before Mass by Sunday, December 18th.   For more information, contact or email Janice Pietrowski at 704-607-5833 / stewardship@4sjnc.org
¡Ya llego El Arbolito Navideño de Mitones de SJN! 
Nuevamente aquí en SJN estaremos recolectando Gorros, Bufandas y Guantes, para distribuirlos a los mas necesitados. Puede ser tejido o comprado, por favor entregue los artículos antes del domingo 18 de diciembre. Para mas información comuníquese con Janice Pietrowski al:  704-607-5833 / stewardship@4sjnc.org