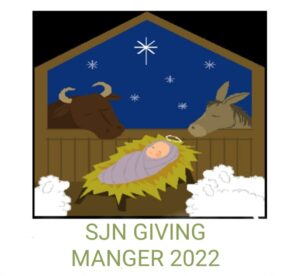 Gift tags are located on the manger in the gathering area.  You can pick up one or more tags before or after Mass.  All gifts need to be returned by the weekend of Dec 17 & 18th  No Later.  Please return all gifts unwrapped or in gift bag. If you would like to make a monetary donation for the Giving Manger which will be used to purchase the items needed. You can mail or drop off your donation to the church office, or in the Offertory collection.  Just make sure you mark on the envelope that it is for the Giving Manger.
El Pesebre Navideño de Donaciones 2022
Las etiquetas de regalos están disponible en el pesebre navideño localizado en el área de reunión, puede recoger una o mas etiquetas antes o después de Misa. Todo regalo debe ser entregado el fin de semana del 17 & 18 de diciembre.  Por favor NO envuelva los regalos,  si desea puede usar bolsas de regalo.  Si desea hacer una donación monetaria para el Giving Manger, todo donacion recibido será utilizará para comprar los artículos necesarios. Puede enviar por correo o dejar en la oficina parroquial o en la colecta del Ofertorio. Solo asegúrese de marcar en el sobre que es un donativo para el Giving Manger.